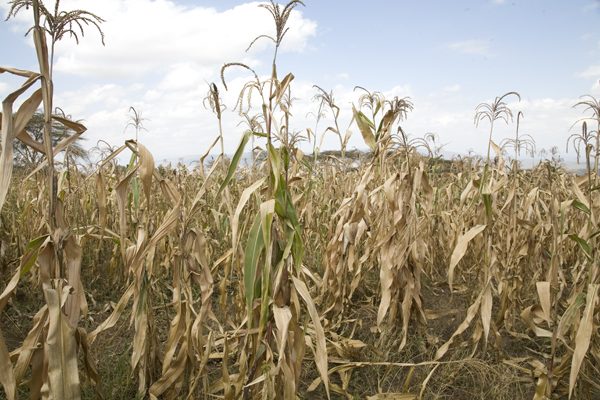 A new study released recently has warned that production of four major crops — maize, wheat, rice and soybeans — is set to drop dramatically in the next ten years as climate change pushes up temperatures, sparking crop failures and unprecedented food shortages in many countries.
The projection should be a worrying development for Uganda, and several sub-Saharan countries, which are already going through a serious food crisis.
The report released by Centre for Development Research at University of Bonn in Germany shows that production of the crops will collapse because of a projected increase in average temperatures during the growing season.
Opolot Okasai, the Director Crop resources at Agriculture Ministry, told New Vision that the findings of the report are more worrying because the above crops are a staple for many people and are a source of nutrition for many populations.
The study, which examined price and production of the above crops from 1961 to 2013, warns that in 13 years' time [by 2030] output could be cut by 9%t and by 23% by 2050.
As a result, the report said food security will become an increasingly difficult problem to tackle because of the increasing populations, and volatile food prices.
"Rising temperature at the two extremes — minimum temperature in the case of rice and maximum temperature in the case of corn [maize] — are detrimental to production of these crops," said Lead author, Mekbib Haile, a senior researcher at the Centre for Development Research, University of Bonn.
In addition to temperature increases, droughts and disproportionate rainfall is predicted to slow production.
The report said a decrease in production of wheat and rice could add to the current total of 795 million people suffering from hunger and more than two billion people with nutrient deficiencies because the two are top calorie sources in the world.
The report recommends improved farming changes such as irrigation, genetically modified crops and other sustainable practices like increased organic production.
The report said production will have increase by about 50% Sub-Saharan by 2050 to avert a crisis.
Okasai said the government has been forced to come up with new quick measures in face of the new climate change threat. "We have been putting in place a policy on fertilizer use, and on irrigation," he said.
He added however, that other sectors of government also take part to make meaningful impact.
"Climate is changing so we have to change the way we do things," he said.
From: New Vision